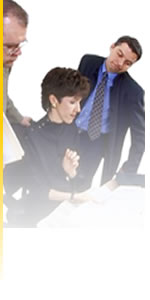 Brett Boston
Brett is President of Group Solutions, an Atlanta-based consulting firm. He is an internationally recognized expert on computer supported team meetings. He acts as the facilitator for former President Jimmy Carter's sessions in conjunction with The Atlanta Project and the Carter Collaboration Center. His U.S. clients include BellSouth, Coca-Cola, Deloitte & Touche, Holiday Inn, the International Olympic Committee, Monsanto, NASA, Turner Broadcasting System and the U.S. Army. His European clients include Accenture, Finnair, the Government of Norway, Lego, Oticon and the Lord Mayors of Copenhagen.
Areas of expertise:

Scenario-based planning
Electronic meetings
Lynn Brailsford
Lynn provides consulting and training services on issues such as diversity, discrimination, sexual harassment, and workplace violence. Her client list includes AOL, Fleet Financial Group, KPMG Peat Marwick, Merrill Lynch, PSEG and Towers-Perrin. Formerly, at Chase Manhattan Bank, Lynn was VP of Training and Development, and conducted programs such as Sexual Harassment Awareness, Interviewing and Selecting, and Conflict Management. Her background also includes designing and conducting management and leadership programs for Empire Blue Cross and Blue Shield, coordinating management training for New York University, and managing training for Macy's Department Store.
Areas of expertise:

Valuing diversity
Overcoming discrimination and sexual harassment
Michael Byrne
Michael has been a Chief Information Officer for many years, and is a seasoned authority in leading information systems departments through significant change to make them more effective and valued. His 30 years of private and public sector IS experience - acquired in Canada, the United Kingdom and the Middle East - have provided him with a sound understanding of leadership, planning and program management. He has been instrumental in many successful initiatives, ranging from survey and census management to gas contract forecasting and risk modelling, and has reorganized and aligned large and medium-sized IS departments to focus successfully on strategic issues.
| | |
| --- | --- |
| Area of expertise: | Reorganizing Information Systems departments |
Gordon Cook
Gordon is the founder of the Cascadia Consulting Group, and a senior business and IT executive, with extensive experience in applying leading-edge technology solutions to business problems. With over 25 years experience leading IT at the CIO level, he specializes in creating benefits from the strategic use of advanced information technologies, and in helping clients improve the rate of return from their information technology investments and improving their IT service delivery. He has led many multi-million dollar projects, and successfully guided the creation and operation, at the board and executive levels, of several new technology-based business ventures.
Areas of expertise:

Improving the rate of return from IT investments
Implementing new technology-based business ventures
Bob Guns
Bob is President of Probe Consulting, and has developed a unique set of Faster Learning Organization (FLO) tools that help organizations learn faster than the competition. His book, "The Faster Learning Organization" (Jossey-Bass, 1996/98), describes how these tools can be applied. Recent client work includes helping Merck improve the facilitating skills of its managers and supervisors, assisting Duracell to develop a Learning Technology and Knowledge Management business plan, helping Engelhard's R&D team achieve a breakthrough innovation in a mature product, and accelerating Motorola's learning of newly re-engineered processes in their Worldwide Learning Services team.
| | |
| --- | --- |
| Area of expertise: | Developing a faster learning organization |
David Hall
David Hall is a Glasgow-based consultant who was formerly the senior IT organizational consultant at BP, where he was responsible for outsourcing and service delivery issues. He led the work at BP in the areas of Service Level Agreements and Service Catalogues, as a way of developing a common language between internal service providers and their business customers. He has worked with companies in the US, Europe, and South America to handle the human aspects of the transition from managing in-house services to managing outsourced services.
Areas of expertise:

Improving service delivery in HR and IT organizations
Human aspects of outsourcing
Stan Malcolm
Stan is the Principal of Performance Vision, a Connecticut-based organization which coaches businesses wishing to develop or advance their strategies for technology-based learning and performance support. Major clients include the Bank of Montreal, BP, Cox Communications, Kellogg, Lockheed Martin and MetLife. He was formerly head of Aetna's internationally respected Learning Technologies Unit, with a multi-million dollar budget and a staff of 22. He has taught graduate programs in instructional design and technology-based learning at many leading universities, including Penn State, Syracuse and Columbia.
Areas of expertise:

Assessing/developing technology-based learning strategies
Implementing performance support systems
Andrew Mayo
Andrew is an international authority on intellectual capital. He is currently Program Director at the London Business School and Professor of Human Capital Management at Middlesex University. He previously spent 30 years in the corporate world, most recently as Chief Learning Officer of ICL. He is the author of such books as "The Power of Learning", "Managing Careers" and "Creating a Training and Development Strategy". Dave Ulrich refers to Andrew's latest book, "The Human Value of Enterprise", as a "masterful synthesis of theory, research and practice on managing human capital".
| | |
| --- | --- |
| Area of expertise: | Valuing human capital |
Patrick McAuley
Pat was formerly Director of Training and Consulting Services at the Canadian Imperial Bank of Commerce. He now focuses on helping business leaders to effectively introduce and implement strategy with greater speed and higher levels of commitment. He does this by applying innovative, "whole system change" techniques that engage all persons affected by the change. Using this method at Rockport Shoes, a new product was developed and the inventory system was improved, netting a 12% bottom line increase. Bank of America redesigned a major business process in half the time expected. Within a year it had implemented massive consolidation and reduced the process cycle by 50%. Pat's last major assignment was to restructure a large United Nations agency in New York.
| | |
| --- | --- |
| Area of expertise: | Whole system change |
Mary Ann McIlraith
Mary Ann is the founder of Maximum Potential International (MPI), a training and consulting firm providing project management and systems implementation services, based on a methodology that has enabled implementation teams to deliver products faster, of a higher quality, and at one-third the cost of traditional implementations. Rapid Implementation Methodology (RIM) enables teams to deliver a world-class e-commerce and enterprise computing environment utilizing client/server technology. It is a simple, but comprehensive, methodology that provides ways to handle multiple steps of the project simultaneously. Her clients include AOL, AT&T and the American Red Cross.
| | |
| --- | --- |
| Area of expertise: | Rapid project implementation |
Barrie Oxtoby
Barrie created one of the very first true "learning organizations" in the world, at Rover in the UK, and was then assigned to the United Nations University in Turin to implement learning organization principles on a global scale. He specializes in working in partnership with organizations in the private, public, academic and voluntary sectors to bring about sustainable growth through organization, team and individual learning. He is a "master craftsman" at helping organizations articulate the way they learn, and his extensive toolkit has been created, developed and tempered by 30 years of experience.
| | |
| --- | --- |
| Area of expertise: | Creating sustainable growth through learning |
Steve Ralphs
Steve is Senior Partner of the I-SYS Group, a consulting company based in Toronto that specializes in business process design, software productivity, enterprise systems development, e-commerce and IT education. Sample projects include developing business requirements for the integration of financial services and systems development quality metrics at a major financial institution, and designing a strategic IT plan focusing on e-commerce/legacy system integration for a leading food manufacturer. Steve was formerly Director of Business Development for Bell Canada's Information Technology group.
| | |
| --- | --- |
| Area of expertise: | Developing strategic IT and e-commerce plans |
Elaine Voci
Elaine is one of the most respected international visionaries in the area of adult learning. As Director of Corporate e-Learning Strategies for Skillsoft, she pioneered and defined industry best practices for e-learning, blended learning, and assessment-driven development. Whether the issue is the selection of the best e-learning vendors, the combination of traditional and web-based learning, or the implementation of a cohesive but culturally sensitive international learning program, she offers the knowledge and array of resources that will create valuable solutions.
Areas of expertise:

Developing e-learning strategies
Designing international training programs